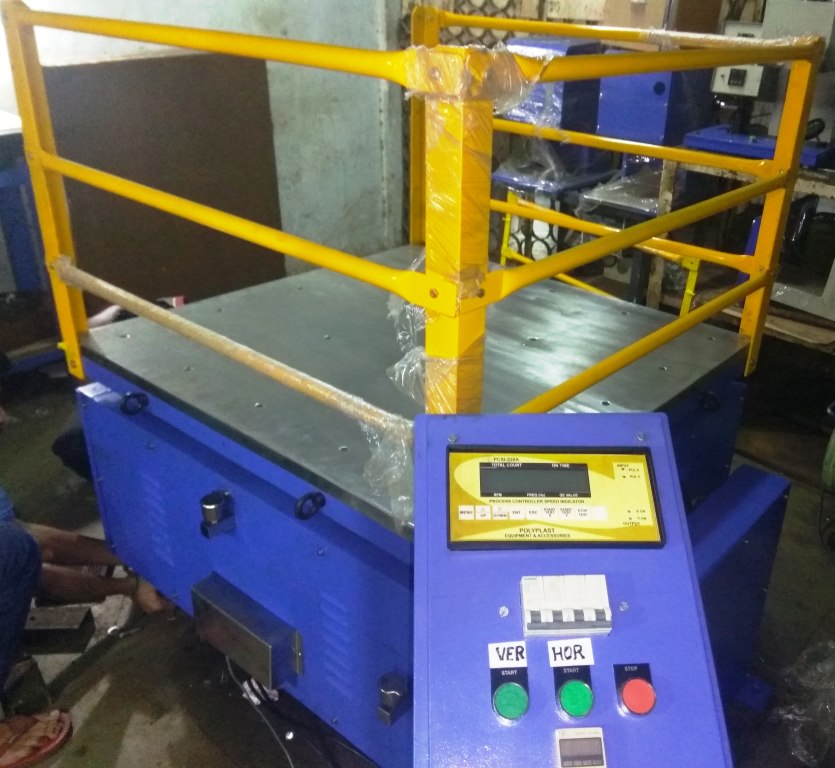 Polyplast Equipment & Accessories provides high quality, durable Vibration Tester that can be used to k the resistance to vibrations in various specimen continuously and extensively for long periods. Our equipment comes with Available in various models in all over countries.

We offer the latest models so that our customers gain equipment that is easy-to-use, quick and which consume very less power to carry out designated tasks.

Vibration Tester offers the perfect satisfaction with its testing features, low cost, consistent performance, quick speed, even cost-effectiveness. Out of its many qualities, one that makes it stand out is its tester efficiency, allowing manufacturers to complete as many tasks as possible within a short period of time.
Polyplast Equipment & Accessories provides wide range of Vibration Testers , mainly in Vertical/ X axis, Horizontal/Y axis and Sinusoidal/Z axis. Besides this for different purpose amplitude range from ~.2mm to 25mm as option and 1 to 50hz are as optional. We have in capacity from 500 gram tiny table model for PCB & elect. Components to 2mtr x2mtr size for heavy duty for White goods and defect applications are available as per custom requirement. There are provision for obtaining different data including g value with our Digital controllers as optional accessories. that is well known for its quality and cost-effectiveness. We are designed to check the resistance to vibrations in various specimen. Available in various models, Our testing equipment are manufactured in compliance with 7028(part-2 & 12),ASTM D999 etc standards.

One of the best features, advantages, use full things of Vibration Tester.

We are Vibration Tester manufacturers used to test the package worthiness due to vibration while in transit of containers, bottles, packages etc.

The Package worthiness Vibration Tester is constructed in sturdy frame and powder coated, it has features like different frequencies (2-8Hz), selection of axis (vertical or horizontal or sinisuidal) etc.

The tester can be made as per the customer's requirement like no. of pieces to test, sample size and weight& features of tester etc.

Normal amplitude is 25mm.

We are counted among the leading names in manufacturing and supplying of Vibration Tester that are categorized into Oven & Muffle Furnace, Humidity Chamber, Salty Spray Chamber, Measuring & Testing Equipment, and Cutter Equipment. Manufactured using high grade raw material, these lab-testing equipment are at par with ASTM D and IS standards. Available in diverse specifications, these products are designed keeping in mind the specific requirements of our clients.

We are Maintaining the quality principles of our items and further developing their quality is essential for our vibration tester item association. The items made are as per the ASTM/IS determinations. Our designing staff endeavor hard to meet each necessity of our clients at the site and guarantee that the reach we produce is according to their particular prerequisites. The quality specialists intently screen the assembling of the hardware and their conveyance interaction. It is because of the endeavors of our specialists that quality has turned into a sign of the association.

We are a client centric organization and hence, ensure that our Vibration Tester are in compliance with international standards. The quality centric and customer friendly approaches have enabled us to meet the growing demands of our global clients. Our clients are based across the domestic markets as well as across the North America. The high quality Vibration Tester we Vibration Tester manufacturer have enabled us to meet the demands of our clients.

Polyplast Equipment & Accessories cannot achieve success without the support of a dedicated and hard working team of professionals for vibration tester products. Hence, we have hired a team of qualified and experienced personnel, which knows that satisfaction of the customers for vibration tester can be achieved only if well developed and quality products are produced. We does not compromise on investing money in technologies and tools, that is needed by the personnel to produce superior quality equipment.

We are the one of finest Vibration Tester manufacturer, Vibration Tester exporter and Vibration Tester supplier in Mumbai, India. If you buy or want this product please quote
Contact Us